A gentle city with gentle people. Vientiane is known for its old world charm, from the slow pace of life to the kindness of the locals, a foodie heaven where you can sit alongside the colonial buildings, drinking some of the superb locally grown coffee as the Mekong glides by. Some of the real joys in this amazing capital city can be hard to find, but once you discover the delights on offer, we know you'll be back for more.
1. Weaving and Dyeing
The weaving of Laos is extraordinary. It is an integral part of the culture and has been used over the years to tell the legends from one generation to the next and each group has its own style that is highly distinctive. While you are here, learn more about this tradition and about how to feed indigo to keep it alive at the Lao Textile Museum. Then head to the Houey Hong Vocational Training Centre where you can weave and dye your own scarf, choosing from a range of natural dyes, onion peel, jack fruit, or flowers are just some of the possible ways to dye your work.
2. The Orchid Gardens and an Orchid Trek
For plant lovers, the orchid gardens are extraordinary. Bertrand Laville of Vientiane Orchidees set up the centre 13 years ago and is passionate about the plant. He can explain about the 400 species of orchids at the gardens. If this whets your appetite, then they can take you to discover wild orchids on a trek at Phou Khao Khouay National Park about 60 kilometres from Vientiane.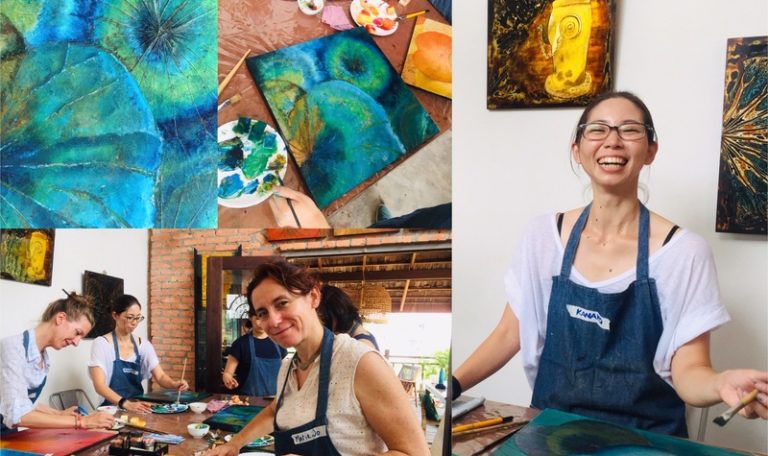 3. Lotus Painting
At a beautiful house, on the edge of a lake, make your own lotus painting. Marie-Do at MDO studio will guide you through each step so that even if you don't consider yourself artistic, you will leave with an extraordinary painting to take home with you. Of course if you have longer in town, you might want to take one of her other courses, lacquerware, Kinsugi or mosaic, for example.
Read the Full Article on the Crowne Plaza Blog.