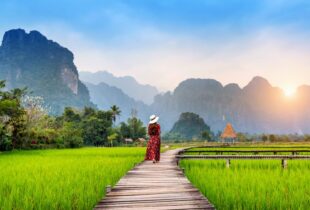 Laos is on the tip of everyone's tongue and for good reason. Come and explore some of the many recommendations on why you should visit Laos. From travel powerhouses such as Conde Naste, National Geographic and many more - everyone is saying the same thing. Visit Laos Now.
This Little Land of Mines tells the stories of how Lao people have been, and still are, impacted following the US bombing of Laos from 1964 to 1973 during the Secret War.  During this time, the U.S. dropped over two million tons of ordnance on Laos during 580,000 bombing missions - equal to a planeload of bombs every 8 minutes, 24-hours a day, for 9 years.
The mysterious Plain of Jars in Laos, which is giving archaeologists clues to an ancient civilization, has just joined the list of UNESCO World Heritage protected sites.